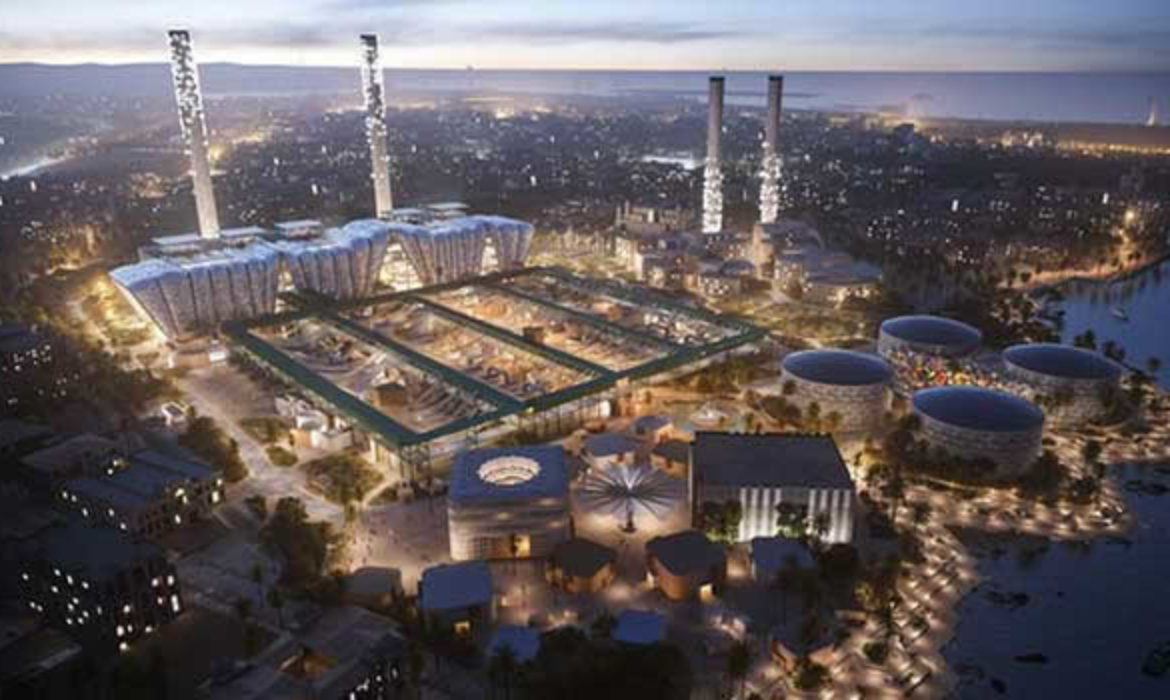 Saudi Arabia has unveiled the $20bn Jeddah Central Project.
Jeddah Central Project is expected to add $12.5bn to the kingdom's economy by 2030
Saudi Crown Prince Mohammed bin Salman bin Abdulaziz Al Saud has launched the master plan and revealed details of the SR75 billion Jeddah Central Project, previously known as New Jeddah Downtown.
The ambitious project will be built on 5.7 million square metres of land overlooking the Red Sea and will be financed by the Public Investment Fund alongside local and international investors, according to the Saudi Press Agency.
The launch of the master plan comes as part of the Crown Prince's efforts to develop all regions and cities of the kingdom, it added.
The project envisions the creation of a world-class destination overlooking the Red Sea in the heart of Jeddah and will further strengthen the city's economy, the Crown Prince said.
The Jeddah Central Project is expected to achieve an estimated added value of SR47 billion for the kingdom's economy by 2030 and will include four main components – an opera house, museum, sports stadium and oceanarium.
In addition, the city will benefit from the development of residential areas, encompassing 17,000 homes and hotel projects that offer more than 2,700 rooms, as well as integrated solutions for the business sector.
The project will also feature a marina and beach resorts, restaurants and cafes and retail offerings.
The waterfront of the project will be 9.5km long, which includes a promenade, a marina and a 2.1km long beach.
Open spaces and public services make up 40 percent of the project area, with the provision of designated walking areas.
The project's developer, Jeddah Central Development Company, was established in 2019 by the Public Investment Fund. It will complete the project in three phases, the first of which is set to be finished by the end of 2027. Currently, the company is working with authorities to ensure the implementation of every stage of the project.
More than 500 expert engineers and consultants participated in the development of the master plan, representing five of the best design houses in the world, the statement said.
Source: ArabianBusiness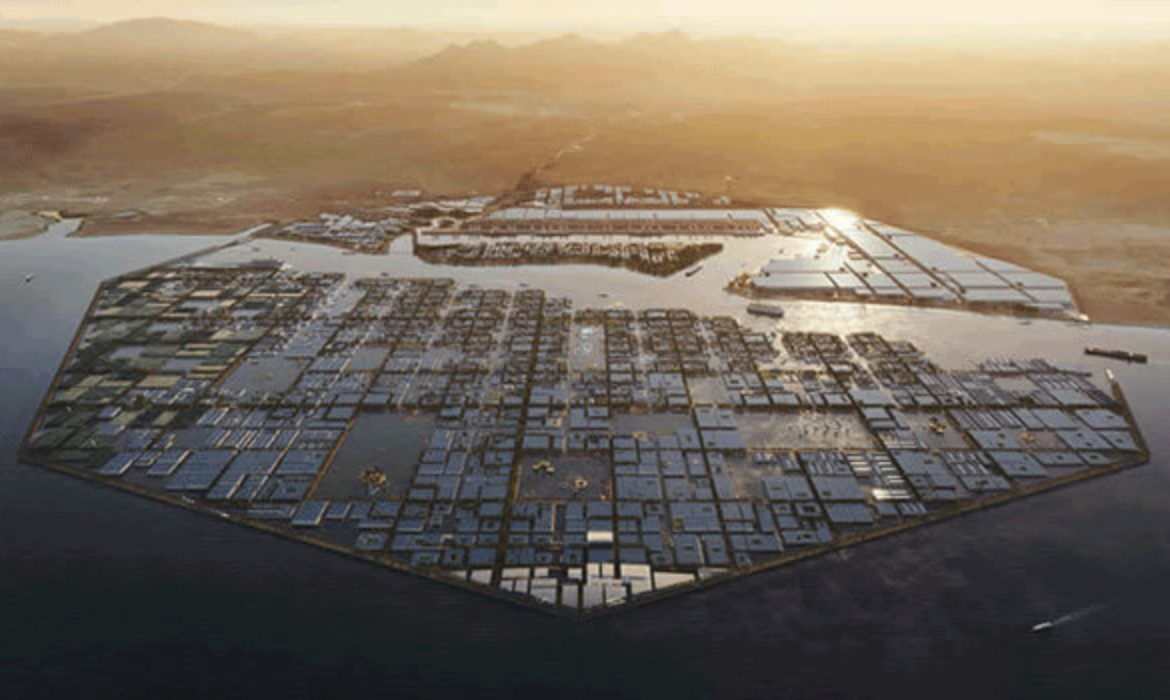 HRH Prince Mohammed Bin Salman announces the establishment of oxagon, The largest floating industrial complex in the world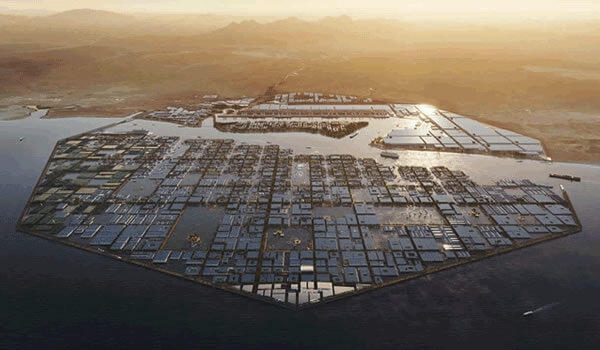 Clean energy, modern supply chain logistics in OXAGON to support business partners

OXAGON to welcome industrial pioneers beginning in 2022

Seven key industries supported by renewable energy to support industrial development
Unique octagon design supports NEOM's Blue Economy development
NEOM, Saudi Arabia, November 16, 2021 – His Royal Highness Mohammed bin Salman, Crown Prince and Chairman of the NEOM Company Board of Directors, today announced the establishment of OXAGON, forming the next phase of NEOM's master plan and representing a radical new model for future manufacturing centers, based on NEOM's strategies of redefining the way humanity lives and works in the future.
On the occasion of the announcement on the establishment of the city, His Royal Highness said: "OXAGON will be the catalyst for economic growth and diversity in NEOM and the Kingdom, further meeting our ambitions under Vision 2030. OXAGON will contribute to redefining the world's approach to industrial development in the future, protecting the environment while creating jobs and growth for NEOM. It will contribute to Saudi Arabia's regional trade and commerce, and support creating a new focal point for global trade flows. I am pleased to see that business and development have started on the ground and we look forward to the city's rapid expansion."
Nadhmi Al-Nasr, CEO of NEOM, said: "Through OXAGON, there will be a fundamental shift in how the world views manufacturing centers. What encourages us is to see the enthusiasm of a number of our partners who have shown eagerness to start their projects in OXAGON. These pioneers of change will establish factories, developed with the latest technologies in artificial intelligence, to achieve a significant leap for this era into the Fourth Industrial Revolution. As with THE LINE, OXAGON will be a comprehensive cognitive city that provides exceptional livability for its residents."
Comprising a large area in the southwest corner of NEOM, the core urban environment is centered around the integrated port and logistics hub that will house the majority of the city's anticipated residents. The unique octagonal design minimizes impact on the environment and provides optimal land usage, with the remainder open to preserve 95% of the natural environment. A defining feature of the city is the world's largest floating structure, which will become a center for NEOM's Blue Economy and achieve sustainable growth.
OXAGON complements the same philosophy and principles of THE LINE (which was announced in January 2021) and will offer exceptional livability in harmony with nature. Ideally located on the Red Sea close to the Suez Canal, through which approximately 13% of the globe's trade passes, OXAGON will be one of the world's most technologically advanced logistics hubs with state-of-the-art integrated port and airport connectivity.
OXAGON to set global benchmarks for advanced technologies
OXAGON will establish the world's first fully integrated port and supply chain ecosystem for NEOM. The port, logistics and rail delivery facility will be unified, providing world-class productivity levels with net-zero carbon emissions, setting global benchmarks in the adoption of technology and environmental sustainability.
The agile and integrated physical and digital supply chain and logistics system will allow for real-time planning, resulting in secure on-time delivery, efficiency and cost-effectiveness for industry partners.
At OXAGON's core will be the adoption of the most advanced technologies such as the Internet of Things (IoT), human-machine fusion, artificial and predictive intelligence, and robotics, all of which are coupled to a network of fully automated distribution centers and autonomous last-mile delivery assets to drive NEOM's ambitions of creating a seamless integrated, intelligent and efficient supply chain.
Seven innovative sectors, all powered by 100% renewable energy
The net-zero city will be powered by 100% clean energy and will become a focal point for industry leaders who want to pioneer change to create the advanced and clean factories of the future.
Seven sectors form the nucleus of OXAGON's industrial development, with innovation and new technology creating a vital base for these industries. These industries are sustainable energy; autonomous mobility; water innovation; sustainable food production; health and well-being; technology and digital manufacturing (including telecommunications, space technology and robotics); and modern methods of construction; all powered by 100% renewable energy.
Communities to be integrated with nature
Many of the features of THE LINE that offer exceptional livability are reflected in the urban landscape of OXAGON. Communities will be walkable, or via hydrogen-powered mobility. Sustainable industry will be built around the communities, minimizing commute time and providing exceptional livability with nature seamlessly integrated into the urban environment.
Education, Research and Innovation to rival global centers
OXAGON will innovate to create a truly circular economy with a collaborative environment built around research and innovation: OXAGON's innovation campus will host the Education, Research and Innovation (ERI) ecosystem to rival established global centers.
Development of OXAGON is well underway and designs are in progress for the large manufacturing facilities. These facilities include the world's largest green hydrogen project involving Air Products, ACWA Power and NEOM in a tri-partite venture; the world's largest and most advanced modular building construction factory with Gulf Modular International; and the largest hyperscale data center in the region, a joint venture between FAS Energy and NEOM.
With a best-in-class regulatory system of its kind for mass support, OXAGON will grow rapidly and welcome its first manufacturing tenants at the beginning of 2022.
Source: NEOM.com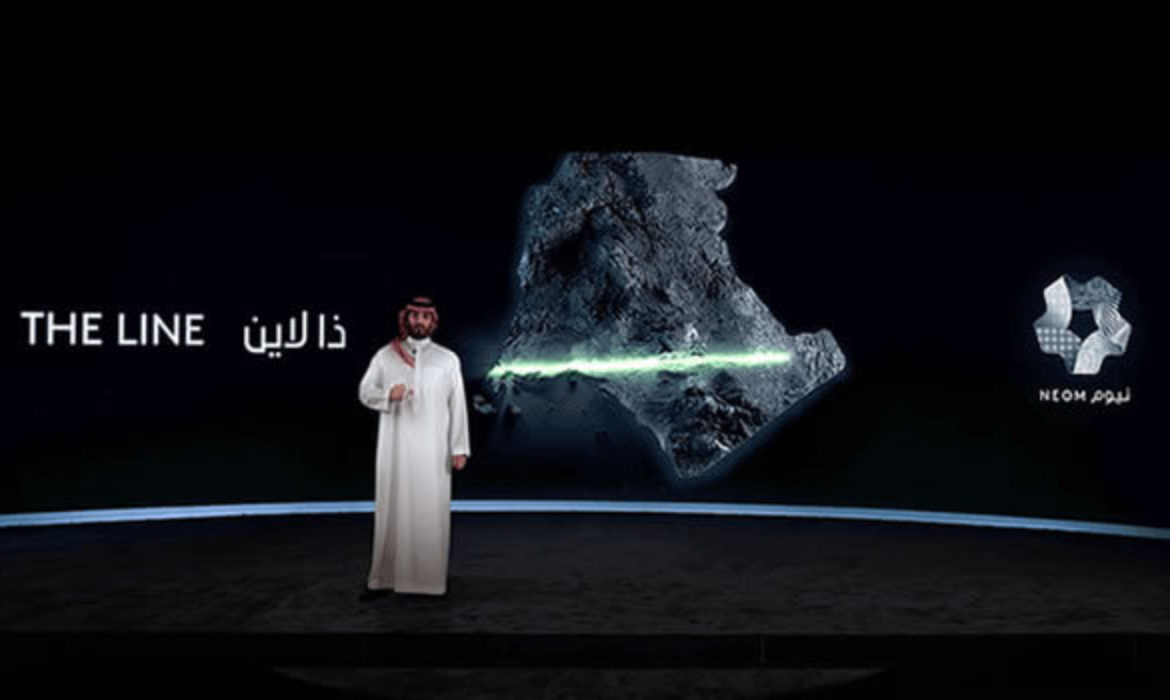 A revolution in urban living
Free of cars and streets, residents will have nature and all daily needs within a five-minute walk
To create 380,000 jobs of the future and contribute SAR 180bn ($48bn) to GDP by 2030
170km linear development of hyper-connected AI-enabled communities powered by 100% clean energy
NEOM, Saudi Arabia: His Royal Highness Mohammed bin Salman, Crown Prince and Chairman of the NEOM Company Board of Directors, today announced THE LINE, a revolution in urban living at NEOM, and a blueprint for how people and planet can co-exist in harmony.
THE LINE, a 170km belt of hyper-connected future communities, without cars and roads and built around nature, is a direct response to some of the most pressing challenges facing humanity today such as legacy infrastructure, pollution, traffic, and human congestion.
A cornerstone of Saudi Vision 2030 and an economic engine for the Kingdom, it will drive diversification and aims to contribute 380,000 jobs of the future and SAR180 billion (USD48 bn) to domestic GDP by 2030.
His Royal Highness said: "Throughout history, cities were built to protect their citizens. After the Industrial Revolution, cities prioritized machines, cars and factories over people. In cities that are viewed as the world's most advanced, people spend years of their lives commuting. By 2050, commute durations will double. By 2050, one billion people will have to relocate due to rising CO2 emissions and sea levels. 90% of people breathe polluted air. Why should we sacrifice nature for the sake of development? Why should seven million people die every year because of pollution? Why should we lose one million people every year due to traffic accidents? And why should we accept wasting years of our lives commuting? Therefore, we need to transform the concept of a conventional city into that of a futuristic one," His Royal Highness added. "Today, as the Chairman of the Board of Directors of NEOM, I present to you THE LINE. A city of a million residents with a length of 170 km that preserves 95% of nature within NEOM, with zero cars, zero streets and zero carbon emissions."
THE LINE is the first time in 150 years that a major urban development has been designed around people, not roads. Walkability will define life on THE LINE – all essential daily services, such as schools, medical clinics, leisure facilities, as well as green spaces, will be within a five-minute walk.
Ultra-high-speed transit and autonomous mobility solutions will make travel easier and give residents the opportunity to reclaim time to spend on health and wellbeing. It is expected no journey will be longer than 20 minutes.
THE LINE's communities will be cognitive, powered by Artificial Intelligence (AI), continuously learning predictive ways to make life easier, creating time for both residents and businesses. An estimated 90% of available data will be harnessed to enhance infrastructure capabilities far beyond the 1% typically utilized in existing smart cities.
Redefining sustainability, THE LINE will comprise carbon-positive urban developments powered by 100% clean energy, providing pollution-free, healthier and more sustainable environments for residents. Mixed-use communities will be built around nature, instead of over it.
NEOM's sectors of the future, headed by global industry leaders, are already addressing some of the world's most pressing challenges. They are pioneering a new marketplace for breakthrough innovations and creating opportunities to attract talent, investors and partners to become part of its business ecosystem.
Construction of THE LINE will commence in Q1 of 2021. THE LINE is one of the most complex and challenging infrastructure projects in the world and forms part of extensive development work already underway at NEOM.
NEOM is part of the world-class, diversified portfolio of Saudi Arabia's ​Public Investment Fund, one of the largest sovereign wealth funds in the world.
Source: NEOM.com